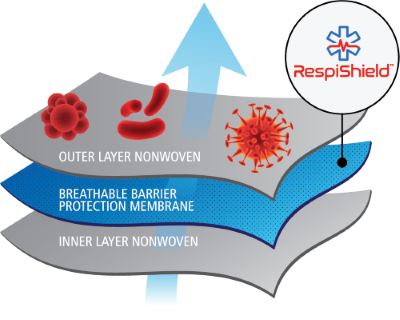 RespiShield™ is a breathable barrier protection film for use in medical personal protection equipment (PPE) with the optimal combination of viral and synthetic blood protection and breathability that is also lightweight and eco-friendly.
BARRIER PROTECTION + BREATHABLE

Our proprietary and patented manufacturing process creates a membrane that is naturally hydrophobic with high porosity that allows for high moisture vapor transmission.
All RespiShield™ membranes:
Achieve Level 3 barrier protection and some products can achieve Level 4 protection (ANSI/AAMI PB70)
Achieve synthetic blood protection (ASTM F1670) and some membranes achieve viral protection (ASTM F1671)
LIGHTWEIGHT + QUIET
RespiShield™ membranes are naturally lightweight due to their high porosity. Their material properties also result in a quiet product.
ECO-FRIENDLY

RespiShield™ membranes are produced using a solvent-free manufacturing process with a low carbon footprint. The polypropylene-based material is recyclable and completely perfluorocarbon (PFC) free.
Visit the product data page to view additional details on select Celgard® separators or contact us for further discussion.